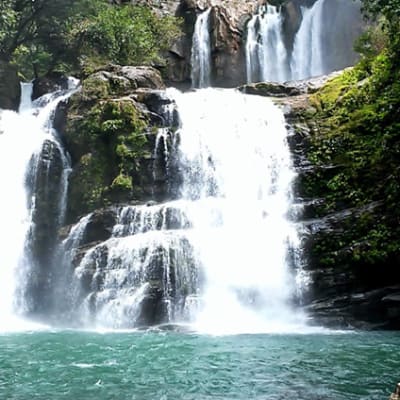 Nauyaca Waterfalls
Enjoy the incredible beauty of the one of the most splendid waterfalls in the area. It begins with a typical Costa Rican breakfast served at the owner's home. The 3.7 mile journey to the falls is partially taken by horseback, and the rest of the distance is hiked. During the trip, Don Lulo will point out the areas beautiful flora and fauna. There are two waterfalls. One is a 147 foot freefall of water, while the other is a cascading falls, tiered fall into a series of pools. Lunch is also provided during this 6 hour tour.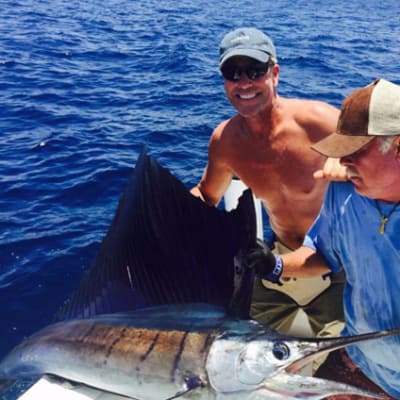 Sport Fishing Tours
Costa Rica is one of the world's most famous sport fishing destinations - with the South Pacific being one of the most popular choices in the country. Your boat will be staffed with an experienced crew. Mahi mahi, yellowfin tuna, marlin and sailfish are all world record catches in this area. During your trip, you likely spot numerous marine birds, dolphins, turtles and humpback whales during their migration. Catch and release is a common practice, but if you catch something you like such as a sea bass or tuna, you may be having it for dinner. Half and Full Day tours are available.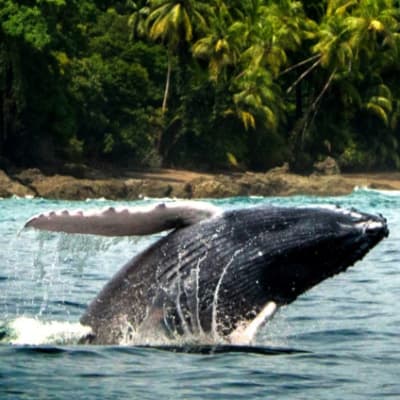 Whales & Dolphins watching
Experience Marina Life from the water with a boating tour. The Marina Ballena National Park is one of the largest underwater parks in the world. It hosts a variety of whales during their migration. Most of the year, many breeds can be spotted here including Humpback, Bryde's, False Orcas and Whale Sharks. The famous Whales Tail sandbar, Ballena Island and the Three Sisters (Tres Hermanas) islands are incredible spots to view them. There are several types of dolphins and sea turtles, especially the olive ridley migrating through this area. Snorkeling equipment is provided to view the underwater reefs. You will see plenty of sea caves that you may want to visit later.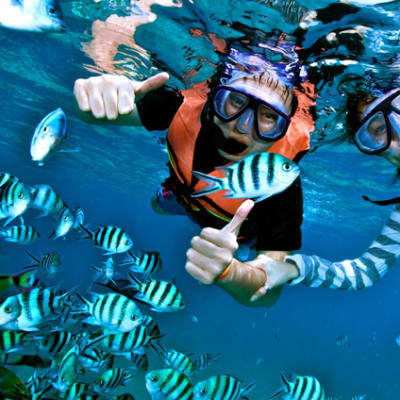 Isla del Caño
This small, but hilly island lies across from Drake's Bay. It was formerly a Pre-Colombian burial ground that preserves part of Costa Rica's indigenous heritage, making it an important archaeological site. However, it is also known for its coral reefs in which 19 coral species can be found. The rich sea life includes octopus, turtles, manta rays, many reef fish and eels. Snorkeling gear is provided. Certified divers can check out the underwater population with the tour provider's equipment.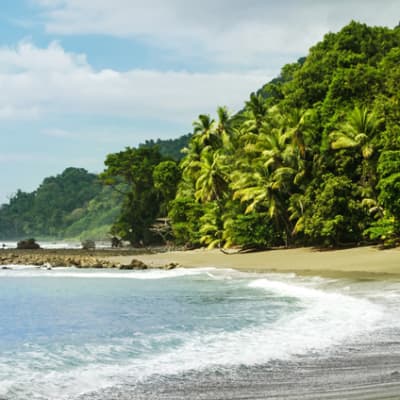 Corcovado Park Tour
National Geographic recognizes this park as the most biologically diverse location on Earth. It holds 3% of the world's biodiversity and has the largest primary rainforest on the Pacific Coast. The 1.5 hour boat trip will bring you to San Pedrillo beach entrance. During your tour you'll likely view dolphins, whales, turtles and marine birds. In the park, there are numerous paths to hike, (with varying degrees of difficulty) all led by a guide. The park is home to numerous types of monkeys, sloths, raccoons and many birds and reptiles. If you are lucky, you will see the elusive tapir. Some of the trees in this park are over 200 years old. A picnic lunch is provided. This is an all day trip.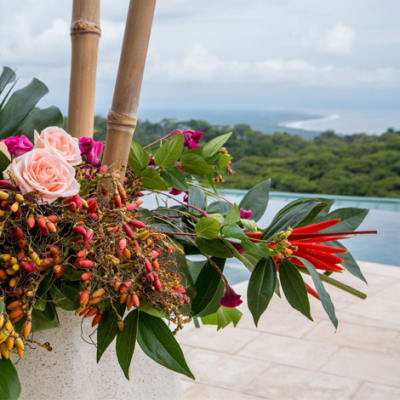 Intimate Wedding
Whether it's the small intimate wedding you have always dreamed of, a discreet elopement or a renewal of vows with a small group of your closest family and friends, let us help make your special event perfect.
You may be imagining a beachfront ceremony as the sun sets. Or perhaps exchanging of vows and a reception one thousand feet above the Pacific Ocean with the sea and mountains as your backdrop. We invite you to allow our highly experienced wedding coordinator to work with you to create an unforgettable occasion.
We are not believers in the common practice of packaging such special occasions. Rather, by working with our guest services team at Hotel Three Sixty, each celebration ... your celebration ... will be customized to realize your own personal, unique vision. We pride ourselves on creating impactful results which will be cherished both by you and your guests.
Our assistance can begin as early as the planning of your travel itinerary and the preparation of any necessary legal requirements. And it can include as many of the essential (and non-essential) details as you wish:
The floral design, your food choices, and menu ... definitely a project in itself.
Entertainment: would you like to have live music, or maybe you have a special playlist we can program?
Are there any special activities you would like to arrange for your guests?
And of course helping with the most important of choices, such as the photographer.
Our professional wedding planner, fluent in both English and Spanish, will assume as many of these responsibilities as you wish, allowing you to relax and enjoy our Costa Rican 'pura vida'
Contact our guest services team to arrange a personal consultation, either by phone or email and learn more about the extensive 'menu' of services we provide.tated, we do not believe in the packaging of individual dreams but a customized event, including the individualized assistance of your own wedding planner and a photographer, will begin at around $2,200.